Chapter 13 Bankruptcy Lawyer/Attorney
Primarily Serving Antioch, Pittsburg, Brentwood, Oakley, Concord and Bay Area CA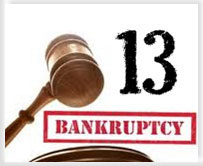 Are you struggling to meet your bills and fearing foreclosure on your home? You could benefit from the financial reorganization strategy of Chapter 13 bankruptcy. I am the lawyer who can explain the advantages of this federal protection, and show you the way to true debt relief.

I'm Mark A. McLaughlin, more than 30 years of experience helping clients file for Chapter 13 Bankruptcy Attorney (Bankruptcy Attorney Brentwood, Bankruptcy Lawyer Brentwood) Northern California (Antioch, Pittsburg, Brentwood, Concord, Oakland) . I educate my clients about debt, interest, credit and personal finance so that they can avoid these problems in the future. In everything I say and do for you, I am dedicated to your success. Bankruptcy Attorney Brentwood / Bankruptcy Lawyer Brentwood

If you are facing foreclosure, garnishment of your wages, car or truck repossession and creditor harassment, you can put an immediate halt to the proceedings by filing a Chapter 13 or Chapter 7 bankruptcy. Mortgage debt cannot be discharged through bankruptcy. However you may pay mortgage arrears through a plan over 5 years and restart regular monthly payments to the mortgage holder as a mean to force stall foreclosure and over time cure the delinquency. In the case where your home value is less than the amounts of the first mortgage and you have a second mortgage you can ask the court to strip the second mortgage off the property and pay the 2nd mortgage holder pennies on the dollar. In summary, filing for bankruptcy will make your other debts more manageable and give you time to catch up on back payments.

With Chapter 13 bankruptcy, all of your debts can be consolidated into one manageable monthly payment. You must stick with your payment plan consistently for a period of three to five years. At the end of that period, all of your remaining debt will be discharged and you won't have to surrender any assets.

All you need to be eligible for Chapter 13 bankruptcy is a steady source of income. For the vast majority of people, this comes from their job. For others, it can come from any reliable regular source such as contribution from family members. If you are concerned about obtaining credit after filing for bankruptcy, speak with an experienced Chapter 13 bankruptcy attorney who can help. My law office offers a free initial consultation, so call now (925) 754-2622. If you need an evening appointment, please tell us (chapter 13 attorneys). I welcome the opportunity to be of service.


Law Offices of Mark A. McLaughlin

5109 Lone Tree Way, Suite B

Antioch, CA 94531, USA

TEL:
925.754.2622
FAX:
9257541104
E-MAIL:
nmclaug226@sbcglobal.net
PRIMARY PRACTICE AREA
For over 30 years, our firm's representation includes a full range of Bankruptcy related matters including CHAPTER 7, CHAPTER 13, and CHAPTER 11 Bankruptcy Hearing. My clients mainly come from Pittsburg, Antioch, Brentwood, Oakley, concord and Bay Area CA. When you choose us, Our Bankruptcy Attorney/Bankruptcy Lawyer Will get started right away.
Immediately contact Now by (925) 754-2622
RELATED SEARCHES
Chapter 7 Bankruptcy | CHAPTER 13 Bankruptcy |
Bankruptcy Lawyer Brentwood
| CHAPTER 11 Bankruptcy | Bankruptcy Attorney Antioch | Business Law Bankruptcy | Alternatives| Bankruptcy Attorney Pittsburg | Bankruptcy Lawyer Pittsburg| Bankruptcy Hearing | Business Law Bankruptcy | Small Business | Alternatives | Bankruptcy Attorney Pittsburg | Bankruptcy Lawyer Pittsburg |
Bankruptcy Attorney Brentwood
| Bankruptcy Lawyer Concord | Bankruptcy Lawyer Oakley | Bankruptcy Attorney Oakley | Attorney | Bankruptcy Lawyer Brentwood Concord | Concord