Chapter 11 Bankruptcy Attorney or Lawyer
primarily serving Antioch, Pittsburg, Brentwood, Oakley, Concord and Bay Area CA
+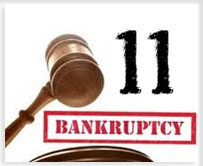 Chapter 11 bankruptcy is a form of financial reorganization used by businesses and individuals with large debts and a lot of property. It is unique in the bankruptcy field because the debtor act as it own trustee and enables the client to continue to manage its financial affairs with court protection. The main purpose is to give the debtor breathing space to formulate a plan to become profitable while holding off collection activities, repossessions and foreclosures giving the client a chance to save its business and assets. I have done these cases for individuals who own many houses and various types of businesses such as construction companies, winery, marina and number of restaurants.

Chapter 11 Bankruptcy (Bankruptcy Attorney Oakley/Bankruptcy Lawyer Oakley) can be a perfect solution to resolve overwhelming financial problems of companies where excessive debts or losses, business down turns or unmanageable market situations have created a situation which cannot be overcome with conventional tactics.

I'm Mark A. McLaughlin, more than 30 years of experience helping clients file for Chapter 11 bankruptcy in Northern California (Antioch, Pittsburg, Brentwood, Concord, Oakland, San Francisco and ….). I educate my clients about debt, interest, credit and personal finance (chapter 11 bankruptcy laws) so that they can avoid these problems in the future. In everything I say and do for you, I am dedicated to your success.

Call me now at (925) 754-2622 to Stop Collections, Foreclosure, and Repossession

A Chapter 11 bankruptcy begins by filing legal documents with the bankruptcy court. Once the bankruptcy has been filed you gain the benefit of protection from creditor collection efforts through the provisions of the "Automatic Stay". This includes collections letters, phone calls, foreclosure and repossession. Next, you need to provide to the Court written "Schedules" and "Statements" that delineate your total debts, current revenue and expenses, existing contracts, obligations and lawsuits which will be used to create a repayment plan. The final step is the formulation of a plan of reorganization and seeking approval from creditors and the court.

For experienced, compassionate, reliable legal representation that gets results, contact My law office today by (925) 754-2622 for chapter 11 lawyer


Law Offices of Mark A. McLaughlin

5109 Lone Tree Way, Suite B

Antioch, CA 94531, USA

TEL:
925.754.2622
FAX:
9257541104
E-MAIL:
nmclaug226@sbcglobal.net
PRIMARY PRACTICE AREA
For over 30 years, our firm's representation includes a full range of Bankruptcy related matters including CHAPTER 7, CHAPTER 13, and CHAPTER 11 Bankruptcy Hearing. My clients mainly come from Pittsburg, Antioch, Brentwood, Oakley, concord and Bay Area CA. When you choose us, Our Bankruptcy Attorney/Bankruptcy Lawyer Will get started right away.
Immediately contact Now by (925) 754-2622
RELATED SEARCHES
Chapter 7 Bankruptcy | CHAPTER 13 Bankruptcy | Bankruptcy Lawyer Brentwood | CHAPTER 11 Bankruptcy | Bankruptcy Attorney Antioch | Business Law Bankruptcy | Alternatives| Bankruptcy Attorney Pittsburg | Bankruptcy Lawyer Pittsburg| Bankruptcy Hearing | Business Law Bankruptcy | Small Business | Alternatives | Bankruptcy Attorney Pittsburg | Bankruptcy Lawyer Pittsburg | Bankruptcy Attorney Brentwood | Bankruptcy Lawyer Concord | Bankruptcy Attorney Brentwood | Bankruptcy Lawyer Oakley | Bankruptcy Attorney Oakley | Attorney | Bankruptcy Lawyer Brentwood Concord | Concord