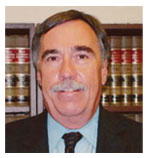 If mounting debt is causing you to lose sleep, taking years off your life, the help and hope you need are just a phone call away.

I am Mark A. McLaughlin, an experienced Northern California (Antioch, Pittsburg , Brentwood, Concord, Oakland, San Francisco and ….) bankruptcy lawyer with over 30 years experience helping individuals, families and businesses with debt relief and filing bankruptcy in California. I offer personal attention and a positive approach to California bankruptcy proceedings. My law firm (chapter 7, 11, 13 Bankruptcy Attorney Antioch) has shown thousands of individuals, families and businesses, the road back to financial freedom. Federal bankruptcy protections are on the books for that very reason — to give a second chance and much deserved "fresh start".

For experienced, compassionate, reliable legal representation that gets results, contact My law office today by (925) 754-2622.

Law Offices of Mark A. McLaughlin
3012 Lone Tree Way, Suite 300
Antioch, CA 94509
(925) 754-2622
Fax: 9257541104
e-Mail: mark@antiochlawoffice.com

"We are a debt relief agency and help people file for bankruptcy"

PRIMARY PRACTICE AREA
For over 30 years, our firm's representation includes a full range of Bankruptcy related matters including CHAPTER 7, CHAPTER 13, and CHAPTER 11 Bankruptcy Hearing. My clients mainly come from Pittsburg, Antioch, Brentwood, Oakley, concord and Bay Area CA. When you choose us, Our Bankruptcy Attorney/Bankruptcy Lawyer Will get started right away. Immediately contact Now by (925) 754-2622
RELATED SEARCHES
Chapter 7 Bankruptcy | CHAPTER 13 Bankruptcy | Bankruptcy Lawyer Brentwood | CHAPTER 11 Bankruptcy | Bankruptcy Attorney Antioch | Business Law Bankruptcy | Alternatives| Bankruptcy Attorney Pittsburg | Bankruptcy Lawyer Pittsburg| Bankruptcy Hearing | Business Law Bankruptcy | Small Business | Alternatives | Bankruptcy Attorney Pittsburg | Bankruptcy Lawyer Pittsburg | Bankruptcy Attorney Brentwood | Bankruptcy Lawyer Concord | Bankruptcy Attorney Brentwood | Bankruptcy Lawyer Oakley | Bankruptcy Attorney Oakley | Attorney | Bankruptcy Lawyer Brentwood Concord | Concord